Acoustic Calibration Service
Located in rural East Yorkshire, our open-water Acoustic Calibration Laboratory is the largest privately-owned facility of its type in the UK.


Neptune Sonar's on site, open-water Acoustic Calibration Laboratory
Available for hire, the facility includes two independent test stations, each with an experienced test engineer to operate the equipment and assist where required. Neptune Sonar offers a bespoke testing and calibration service tailored to meet your exact requirements.
The measurement laboratory is constructed on a floating platform with an average water depth of 10m, and equipped with the most technically advanced instrumentation and software.
The ease of access provided by the 40m gangway offers significant benefits over the use of boats, by simplifying the movement and deployment of heavy equipment.
The laboratory is capable of measuring across a frequency range of 1kHz to 1.2MHz, including admittance, transmit and receive sensitivities, and source level and beam patterns. The measurements recorded are fully traceable to National Standards.
All the Reference Standards are regularly calibrated in-house using the reciprocity method and certified to National Standards. This calibration is carried out at various times throughout the year to compensate for water temperature variations. All uncertainty calculations are performed by the laboratory's bespoke software for each discreet frequency.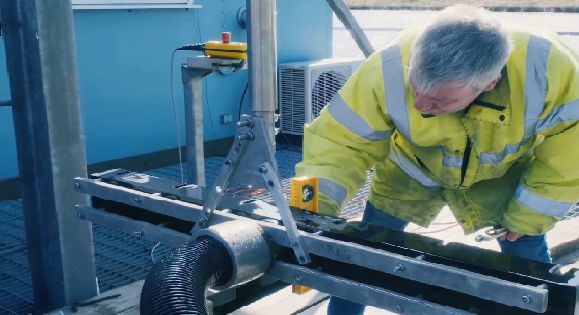 Acoustic Calibration Laboratory Facilities
Acoustic measurement fully traceable to National Standards
Range of reference hydrophones and projectors
Average water depth 10m
Moonpool size 4.9m x 2.3m
Forklift and handling equipment
Laboratory and storage area
Shore-based support facilities
Power supply: 20 amp 3 phase 50Hz
Quiet, rural location
Wide choice of local accommodation