Request Quote
T444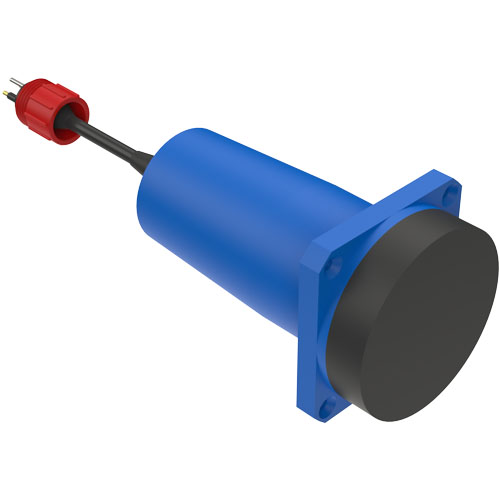 6.5 KHZ BROADBAND PROJECTOR
HIGH POWER
DIRECTIONAL BEAM PATTERN
HIGH PERFORMANCE
LONG RANGE TRANSMISSION
The T444 is a single tonpilz transducer offering a high power, broadband performance. With a nominal operating frequency range from 5.5 kHz to 14 kHz, these transducers can be configured to form half lambda spaced arrays.
The robust design is tolerant of both dynamic and static pressure, making it particularly suitable for both commercial and military applications.
The T444 is available with or without acoustic calibration, traceable to National Standards.
Technical Specification
Resonant Frequency (Nominal)
Useful Frequency Range
Beam Pattern
Transmit Sensitivity
Receive Sensitivity
Nominal Impedance
Transmit Voltage (Abs. Max)
Transmit Voltage / Duty Cycle (Max)

750 Vrms @ 10%
350 Vrms @ 100%
Mechanical Specification
Operating Temperature
Storage Temperature
Cable Type

Ø9.5mm Chloroprene Rubber Twisted Pair
(Optional Ø9mm Polyurethane, Screened Twisted Pair)

Operating Depth
Cable Length

0.1m standard
(Additional lengths supplied to order)

Weight Air/Water (including 10m cable)
Extension cable/connector (Optional)

Ø9mm Polyurethane, Screened Twisted Pair with SubConn IL2F with DLSA-F Locking Sleeve